Wouldn't it be great if you could give your customer a real impression of the finished product in advance? A spectacular image of a fully printed package in 3D, as if your customer already has the product in hand? This is now possible!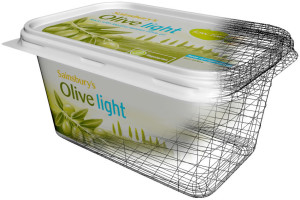 You know the drill: you invite your customer for a print trial of a new or modified design. To do this you usually make room in your agenda and on your production machine. This takes time, interrupts the production process and often, high costs are involved.
What if you can get the approval from your customer through a 3D PDF? Your customer has the possibility to view the product from every angle. They can enlarge the product on the screen for a detailed view. In addition they can print the product from every position they wish and if necessary have the design modified. All this from behind their own desk.
The benefits:
Faster lead time of the order.
No more expensive setup costs at your press.
No interruption of your production process.
No travel expenses for your customer.
Professional and efficient
Sample PDF file
Important notice
Adobe® Reader® 9 or later software is required to view the following sample 3D PDF file. Ensure that you have Reader installed before opening any sample PDF files. Download Adobe Reader.
Download sample
Download the sample PDF and click on the red image.
Wait for a few seconds, and then you can move the object in every position you like.
Move or rotate 3D models
The 3D toolbar is displayed when you click a 3D model. Click the arrow next to the Rotate tool to view all of the 3D navigation tools that are available in Reader. For the best viewing result, turn the 'Lights from File' to 'CAD Optimized Lights'.